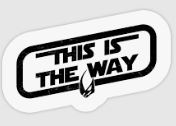 As an old Star Wars fan I am constantly thinking of the motto   for the  Star Wars series "The Mandalorian"
 This is the Way
 And I am thinking of the successful start of Live Scoring.
 We are 100% sure this is the right way forward for the club
 We are live since 29th of May. Your engagement of making it a   success is great.
 Despite some "teething problems" 58% entered their scores the first day, and the second tournament it was 70%.
All using their own phones.
We continuously are solving issues from you players, one by one.
 
I am proud of the club progress
Stay Tuned
/Jan on behalf of the MC